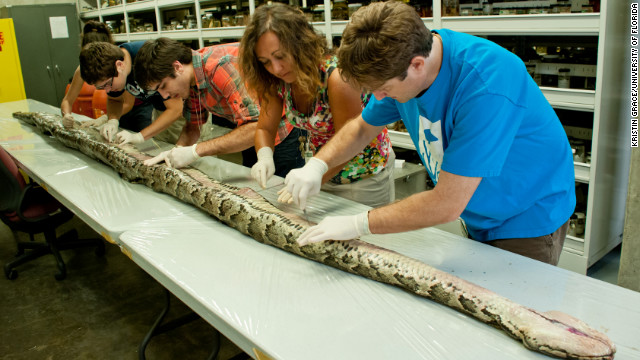 My sister sent me
this article
this morning, and it just highlights what a different ecosystem Floridians are sitting on these days. Massive hogs, record-breaking pythons, snakehead, even cobras have invaded the Everglades and set up shop. As if the place wasn't already America's best chance at killing you while you camp, the dangers are just becoming more diverse. Interesting to see the state turn to hunters and outdoorsmen to help them solve this problem in participation with their conservation program.
"A grand prize of $1,500 will be awarded to the person who kills the most pythons, and $1,000 will go to the person who bags the longest one.

According to the rules, road kill will not be eligible.Participants will pay a $25 registration fee and complete an online training course. The training focuses on safety while hunting pythons...

...The Burmese python is native to Southeast Asia and was first found in the Everglades in 1979, according to researchers at the University of Florida.

These snakes were determined to be an established species in 2000. It is believed that the snakes were originally pets that found their way into Everglades National Park.

The Everglades, known as the river of grass, is a vast area with a climate perfect for the pythons to hide and thrive. And thrive they do: The largest Burmese python on record was found in the Everglades in August, its 17-foot, 6-inch carcass weighing in at 164.5 pounds. Researchers at the University of Florida found 87 eggs inside the snake."
Apparently these jokers are incredibly efficient hunters. Correlated with their arrival, the article goes on to say that "populations of rabbits and foxes have disappeared and numbers of raccoons, opossums and bobcats have dropped as much as 99%."
A bit more from the Florida FWC